I use this paint only in summer. Since the high temperature is above zero and I don't feel like painting at all. But at the same time you always want to have an expressive and stressed look.
Especially good to use these colors when relaxing on the sea or spend a weekend on the weekend by the pool. Since you will not paint your eyes with mascara, it will not spread after swimming. And you want to look beautiful. That is why I bought myself a set of this paint.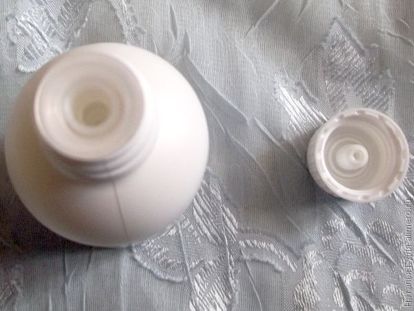 How do i use
1. Prepare the skin for staining.
When I bought the paint, before I first applied it, I tested for an allergic skin reaction. To do this, dissolve the paint, as indicated in the instructions, and apply it on the inner side of the elbow bend. This test must be done once and in the future it can not be carried out.
After carrying out this procedure and making sure that there are no allergic counteractions on the skin (red spots, pimples, desquamation, etc.), staining can begin.
First gel remover removes makeup from the eyes.
Then, with the help of a tonic I spend a degreasing of eyelashes and eyebrows and let them dry completely.
When the skin dries, apply the cream around the eyes and eyebrows. At the same time I try, so that he does not hit the hairs.
This procedure is necessary so that accidentally paint on the skin can not paint it. Although now I do not do this, as I have acquired a special tool with which I can easily remove the paint from the skin.
2. Cooking paint
The paint kit does not include any bowl in which to dilute it. Of course you can buy it from the same manufacturer. But, in avoiding unnecessary expenses, I use an old jar of cream.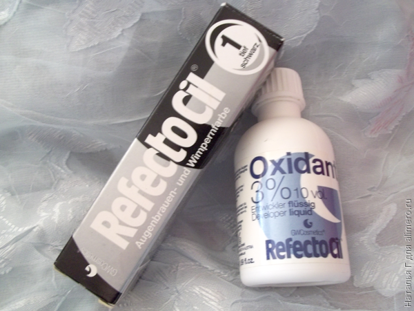 And so, I squeeze out 1 cm of paint on the attached wand and steal it in a jar.
Then pour 5 drops of oxidizer into the same jar. And I mix everything up to get a gley consistency.
I paint a paint just before coloring. Keep it in diluted form is not worth it.
3. Coloring eyelashes and eyebrows
I cut a cotton pad in half and put their rugs under the eyelashes on the lower eyelid.
I close one eye and apply paint on eyelashes with a stick. I apply the paint with scrolling movements abundantly and in a thick layer. Then I open the eye and perform the same procedure with the second eye and eyebrows.
I apply paint on eyebrows in the direction of their growth.
I hold the paint for 10 minutes, so that there is a richer color. Although the instructions say that its effect is from 5 to 10 minutes. Therefore, if you do not want too black eyebrows, then you can adjust their brightness by coloring time.
Also be extremely careful not to let the paint fall on the mucous membrane of the eyes.
4. Wash off paint
I remove cotton pads under the eyes.
Dry cotton swab remove excess paint.
Then, using water and cotton wool, I remove the paint residue.
When flushing paint from eyes, eyes should be closed all the time.
In the same way I clear eyebrows of paint.
If the skin is colored, I clean it using RefectoCil Tint Remover and cotton.
I wash my face with gel to wash off all chemicals.
The manufacturer guarantees that the color will last up to 6 weeks. Maybe this is true, but only in winter. Since in the summer of my paint begins to disappear after 3 weeks. Perhaps this is because in summer the hairs fade faster from the sun and water. But still, I think that 3 weeks is a good time.
Also, some are unhappy with this paint, since when it gets on the body, it is strongly absorbed into the skin and is hard to wash off. It is true, I do not argue. But, after purchasing RefectoCil Tint Remover eyebrow and eyelash remover, this problem disappeared from me.
In general, if you have bright eyelashes and you want to make them more noticeable and emphasize their full length, and give your eyebrows a shade of hair color on your head, but at the same time devote a minimum of time to this procedure, then I can confidently recommend this product. Just choose the right color paint.
The only drawback of this paint is its price:
– paint for eyebrows and eyelashes RefectoCil 15 ml. – 8 USD, 50 UAH., 250 rubles.
– oxidizer RefectoCil Oxidant 3% 50 ml. – 5 USD, 39 UAH., 180 rubles.
– means for removing paint from eyebrows and eyelashes RefectoCil Tint Remover 100 ml. – $ 13, 125 UAH., 540 rubles.