Today I want to tell you about the mask for the face, which I purchased a little more than a week ago. The mask costs only 39 rubles, I bought it at a fixed price store (fix prise).
I think in ordinary stores this mask will cost you 2 times more expensive.
I didn't see exactly the same, but I saw a similar one in the same series, with another action for 85 rubles. Therefore, I assume that this mask will cost about the same.
On the tube, in the foreground under the title, it is written that the mask contains deep-sea mud from the Dead Sea, wakame seaweed and organic tea tree oil.
On the reverse side, the composition is indicated in small letters.
The composition includes water, white clay, glycerin, dead sea mud, alcohol, stearin, Wakame seaweed extract, organic tea tree oil, avocado oil, perfume composition, salicylic acid, dehydroacetate, benzene.
White clay and mud from the Dead Sea are at the top of the list. Thanks to this, we conclude that the manufacturer does not deceive us, and indeed these ingredients are contained in a mask in greater quantities than all the others.
It is also indicated on the face of the tube that this mask has passed the certificate of quality and is a kosher product. This means that the mask contains only natural substances and is allowed even in Sharia.
For those who do not know, I will explain that products containing chemical, artificial components are prohibited in these countries. Everything passes a very strict quality check. Kosher product means its environmental friendliness, purity, utility.
For some time cosmetics with a kosher product certificate have become synonymous with prestige and glamor.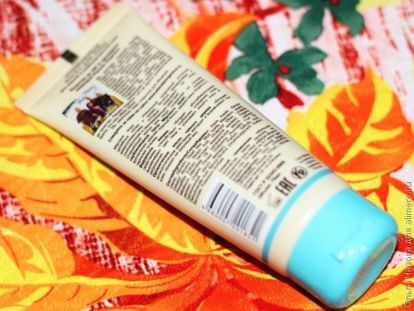 Act

I have already used this mask 4 times. The impressions are very good. I did not notice any allergic reactions. The face after the mask is refreshed, the pores are narrowed, the greasy luster is absent. The skin is a bit tight, but not critical. I put on the cream right after the mask, so I do not think this is a problem.
The mask has a non-catchy light smell of camphor. Although camphor oil in the composition is not specified. I think it just seems to me that it smells of them. Most likely a mixture of tea tree oil and algae give a similar smell. Therefore, I have such associations.
The color of the mask is grayish. Well, it is understandable, clay and green algae will give just such a color. The consistency is thick.
Did you use this mask? What did you think of it?