In the summer, I don't really want to use tonal means, so I was puzzled by the search for powder with decent covering power. After a long study of reviews, I settled on the Clarins mineral powder called Skin Illusion. The full name is actually longer – Clarins Skin Illusion Mineral Plant Extracts Loose Powder Foundation. From it we see that there are minerals and plant extracts in the composition. The manufacturer says that the powder is suitable for any skin type, will give natural glow and provide, in addition to the decorative effect, also care.
Among the advantages, we are called a convenient package with a brush, a good coating, lack of oils, shine and that the powder has undergone dermatological control and suits even the most sensitive skin. The volume of a jar is 13 gr., The price is around 1500 rubles.
Packaging and usability

Frankly, for the price it is my first powder, I used to use Avon compact. But since I had a gift certificate in my hands, I decided to try something from the more expensive segment.
The packaging won me over, very weighty, with a gold lid, looks decent on the dresser. Of course, fingerprints and motes remain on the gold part, but this does not irritate me, and I also try to wipe it off after using it with a napkin or a cotton pad.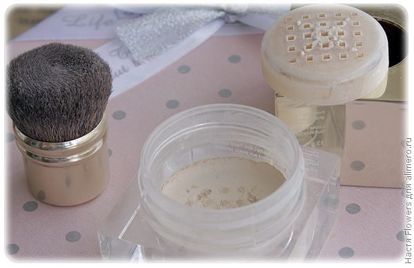 I really liked that a brush is attached to this powder, since I did not want to buy it in addition. And the brush is very interestingly stored in the package itself. A plastic strainer is inserted into the powder, a sponge lies on top, and then a brush that the cap holds. The brush is a little tough, but I still use it and I didn't find a replacement.
Immediately, I note a drawback – it is a homemade powder, it has no place in a cosmetics bag.
My impressions

I did not think that the powder may have some kind of covering power, but Skin Illusion reassured me in this. Powder evens out skin tone, muffles redness, the face with it does not look dull (and certainly not as if you are in flour), but, on the contrary, a slight natural glow appears.
My skin is closer to dry, but this powder is absolutely comfortable, does not dry the skin. So this is not a matting powder and she definitely will not like the owners of combination or oily skin. And, honestly, in hot weather, Skin Illusion is also not the best option.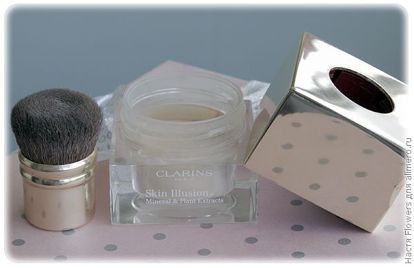 By the way, the powder has a very pleasant floral scent, very light and unobtrusive, after application it is not felt.
To suit this powder

I used to think that all the powders are intended for matting the face and are used exclusively on top of the foundation. It turned out that there are other options, namely Skin Illusion. It is suitable for girls with non-problematic skin, who want to even out a little complexion and give a little shine. In all other cases, you are likely to be disappointed with the purchase.
As for me, I am incredibly pleased with the purchase, using powder in cool weather (unfortunately, we still have a cool summer). In the fall and spring, it will also come in handy for me, but in the winter and in the hot summer, I think I can do without it.
Do you use loose powder?