These skincare products were presented to me by my husband for the past March 8th. They are still not over. In the set was another face cream. Here I used it quickly. It seemed to me that his face shines. And also my sister actively helped me, because she was also very suitable for her.
Soft shower gel CHANEL CHANCE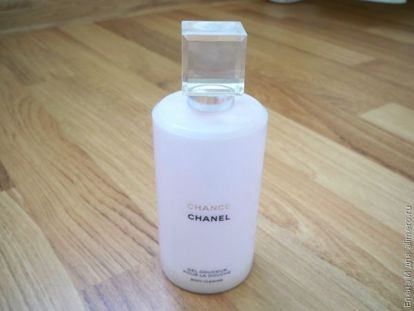 I also really liked this perfumed shower gel CHANEL CHANCE. It is very soft, well foams, cleanses and moisturizes the skin. And most importantly, it gives the body a unique aroma. I use it on holidays. I do not want it to end, because I myself will not buy such an expensive shower gel, and my husband will not give the same thing again. Double-edged stick.
Silky Body Butter CHANEL CHANCE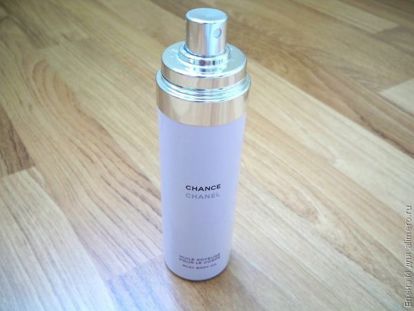 In a set with shower gel there was oil, made in the form of a spray, which allows it to be evenly distributed on the skin and not leave greasy marks on clothes. Well moisturizes the skin, makes it silky and gives it a pleasant aroma. The smell is the same as that of shower gel. I also have the same toilet water.
And in general, lately I have been following tactics so that all body care products are from the same composition. And by smell, and by brand. In order not to mix different smells, the combination of which can give an unpleasant aroma. And also to ensure that the skin care systemic, and the funds complement each other.
Cleansing cream CHANEL MOUSSE DOUCEUR and LOTION DOUCEUR lotion
These products are designed to cleanse the skin. Thick cream foaming cream turns into airy foam on contact with water. He removes makeup well. The lotion also cleanses the skin of impurities and harmful substances, without violating its protective system.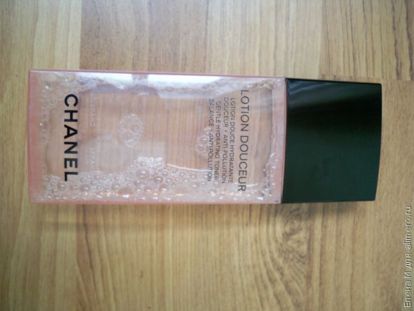 But I'll say right away that these two tools do not suit me. They dry my skin, especially foaming cream. This is not surprising, since my skin is very fastidious to various means. It is very thin, of mixed type and with capillaries located close to the skin surface. Therefore, care for her should be very careful.
I better not use anything, then she is calmer and more beautiful. Although, lately, I noticed that tar soap is suitable for me. Logically, it should be very dry skin, but I have the opposite. Because of this, I can not adequately assess the means to care for the skin of the face.
It seems to me that these products are ideal for oily skin. My sister is exactly like that, and she liked them when she spent the night at my place and used them.