One of my last acquisitions was cream powder Chanel Mat Lumier. And it is about her today will go my story.
I received it as a gift from my husband for one of the holidays. Since I myself would not have bought such an expensive thing.
Packaging
Cream casepowder plastic. The packaging design is stylish and elegant. Well, what can I say, this is Chanel. On top of the lid marked brand logo.
Sponzhik quality. But I additionally use a brush from the previous series of Chanel powder..

Powder is sold in a velvet case, black. It looks spectacular for sale, but is not suitable for socks at all – velvet collects all the dust on itself and after a while begins to look sloppy.
About this tool is not quite true to speak as about powder, because in fact it is a tonal tool with the effect of powder. Even on the manufacturer's website, this powder is presented as a tonal tool.
Accordingly, the texture of powder of a dense consistency, like a dry cream.
Lies on the skin with a light coating and does not push. The face becomes completely matte, while the powder is not noticeable at all.
pros
– very well mattes the skin imperfections, and for a long time
– lack of gloss on the face
– does not clog pores
– the lack of effect on the face of loose flour
– fits well on the foundation or concealer
– the presence of sun protection factor SPF 10
– huge panoramic mirror
– the possibility of replacing the powder blocks
– large enough volume
– almost no smell
Minuses
I did not find the cons. Perhaps, only slightly biting cost, about 2300 rubles.
But can a high price be considered a minus, relative to the luxury class? I think no. So the price for this powder is not a minus.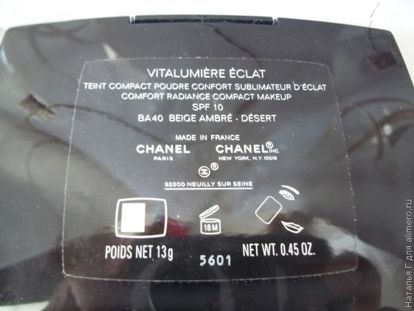 Personal opinion

Powder I am completely satisfied.
It makes my skin smoother, smoother, gives it a healthy look.
Well masks minor flaws on the face. After applying the cheeks become velvety and pleasant to the touch.
In general, powder worthy, although a little expensive. But it is definitely worth it. It is better to buy a luxury product once and be happy for a long time.