I want to tell you about three markers for the lips of budget firms – Lumene, Rimmel and Maybelline.
Who cares, please!
A long time ago, when I was preparing for a summer trip to America, I studied the burning question – what kind of cosmetics from there to bring? Then I stumbled upon Benefit and desired the brand's bestseller – a tint for lips and cheeks.
What is it? such red water that tightly eats up (yes, it eats up!) on the lips. Has no structure, is not perceptible on the lips. The effect is ideal – as if you were smeared with berries. Why did I want her so?
To be honest, I almost never use lipstick, I am terribly uncomfortable to wear something tangible on my lips, something that is easy to smudge and spoil. So my cosmetic bag is balm and transparent gloss, but there was nothing bright there.
And then – put and forget. Even when the tint comes off, he does it gradually. Mugs are not marked, clothes can not be spoiled, teeth can not be painted. In general – a dream. But then somehow it did not work out, and I returned home without the cherished bottle. But.
Maybelline Lipstain 560 Feelin'Red
Maybelline took the premiere of lip markers with enthusiasm – at last a similar thing appeared with us, and even in such an affordable price segment! It remained to wait for the appearance of new items in the store. When the whole line appeared in our store, I happily grabbed the red Feelin'Red.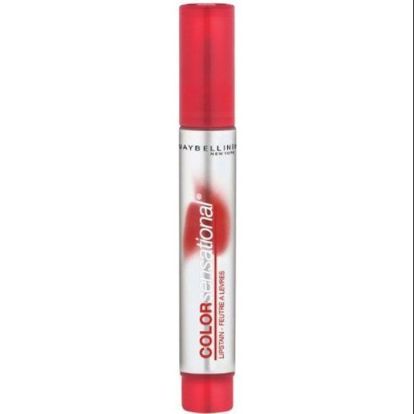 I will say right away, having now experience using other similar products – this is the least worthy representative of the three. Dries very strongly, and color descends quickly. True, when there is color, there are no problems with it.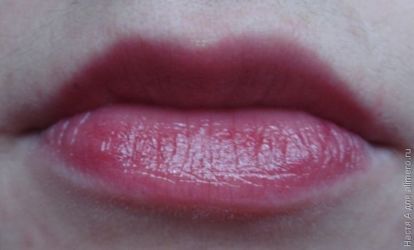 – low price
– we in the city have in all major stores, no problem to find
– the shade comes off smoothly
– madly smells like berries
– average pigmentation
– does not stain teeth, clothes, guy
– it is interesting to try 🙂
– very dry lips
– no native balm
– the color does not hold even an hour
– pinch when applied
– it is impossible to wear without balsam, lips turn into emery
In general, if there are no alternatives (for example, in your city there are no other markers or a tint suitable only for them), you may well try. But in its price range is not the best.
In addition, then I tried another shade, I bought it in Riv Gosh, packed, sealed. But – turned out to be completely dry, almost does not paint. Very upset, and because you will not return.
My next hero is Lumene Lingonberry Lasting Lip StainBalm.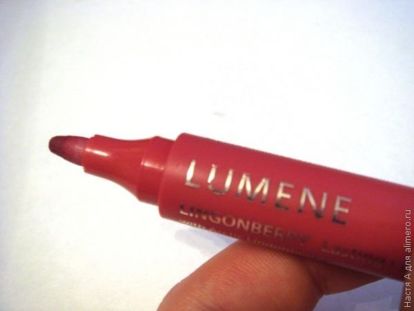 I admit, not so long ago I felt love for this brand. Do you know how rarely it happens when you buy something for the occasion (nothing seems to be necessary, but you really want to, in addition, action 3 for the price 2 is in full swing), but in the end all these products are 100% suitable?
Somehow I bought a tonal, mascara and cream for the skin around the eyes from Lumene – precisely because my hands itched. As a result, imbued with sympathy for all three means. And the mascara has become my favorite. So this brand seems to me a very worthy representative of its class.
I waited for their markers even more than Maybelline. True, it turned out to be not so easy to find them – at first I waited until they were brought to us, and then it turned out that not every store can buy tokens. By the way, this situation still persists, although the product has long been no longer a novelty.
So, I chose the berry shade 13 Touch Kosketus. The rod itself is protected by a double cap, sometimes only the top one opens, it is necessary to make an effort, but it doesn't cause any problems, and it provides better safety.
On the other side of the case is a dense transparent balm, which the manufacturer recommends to put on top. That's just that it is applied very tightly, you have to push hard. After a couple of weeks, the balsam broke off and lay peacefully in the cap. While I use that stump that remained, then I will pick.))
We look at the lips: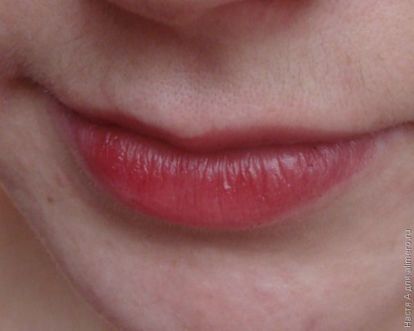 We waited, put balm: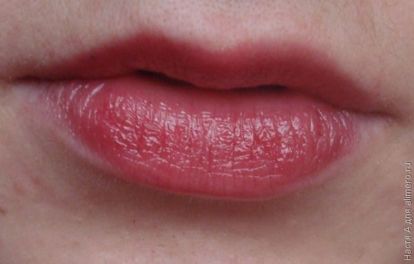 – saturated color
– the presence of balm
– price
– more durability than Maybelline
– the shade comes off smoothly
– does not stain teeth, clothes, guy
– only one of the three does not tweak when applied
– pleasant subtle smell
– break off balm (judging by the reviews, this is not just my problem)
– not everywhere you can find
In general, a very decent representative, I liked more Maybelline. If I decide to buy another marker, and there are no new products, I'll stop on Lumene.
The third hero – Rimmel Lasting Finish 1000 Kisses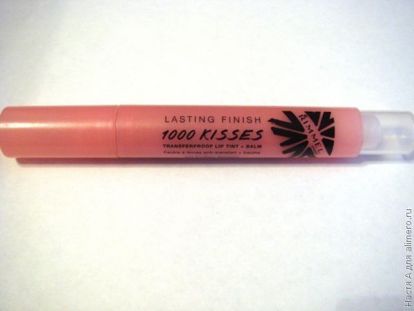 For me, as I think, for many, my love for Rimmel began with varnishes – an excellent brush, many shades, an affordable price. Then I began to try other products of the brand (as a result, I found the perfect cream from them, it's a pity they stopped releasing it). So when I saw this brand in Prague, I immediately grabbed it.
Hue 100 Endless Blossom – doll pink, very pleasant. Like Lumene, we have a balm. It is applied softly, easily, nothing breaks off.
We look at the lips: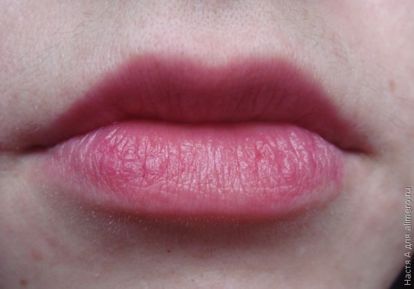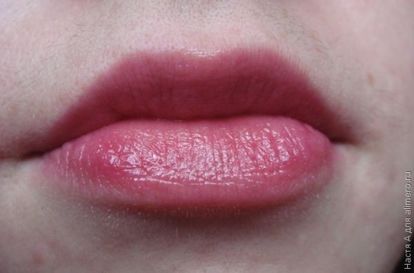 – ooo, this is a great-great shade, not as pronounced as the others, very refreshing face, perfect for makeup without makeup
– the shade comes off smoothly
– does not stain teeth, clothes, guy
– there is a balm, very good, does not break off anywhere)
– slightly tweaks when applied
– in Russia you can buy only through the Internet
– slightly chemical smell
Maybe the whole thing is in shade, but this particular marker is my workhorse.
Let's see once more all the characters on the hand: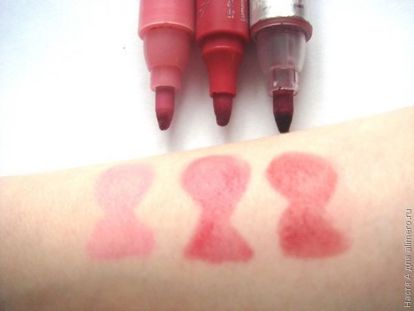 I note that any markers should be applied to clean, dry lips, no matter how great the temptation is to first flavor them with a balm. But putting it on top for me is an obligatory step, except that it should be done no less than 30 seconds after applying the color, otherwise there is a chance to erase it.
For myself, I concluded that tint has the right to exist in my cosmetics bag. True, we must not be lazy from time to time to apply balm, since they all have a tendency to dry lips to one degree or another. But for me it is easier than constantly worrying about how lipstick is lying and looking in the mirror.
And what markers did you try?