VOYAGE A SAN TROPE – from French translates as a trip to Saint Tropez. The first time I bought a bronzer, after completing professional makeup courses. I had never known what it was before.
Bronzer is needed in order to shade those places on the face that need to be reduced. On the contrary, those places that we want to increase, you need to highlight the foundation, powder or light shadows.
It is necessary to allocate the area of ​​the nose with bronzer to make it narrower and shorter if it is too long. Of course, if the nose is short, you do not need to shorten it visually, but you still need to highlight the face against the background so that the face looks brighter and does not merge into one white canvas when you apply a tonal basis or powder on it.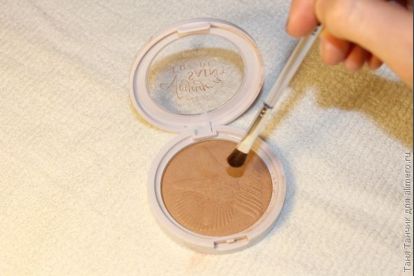 To do this, use a bronzer to carefully draw the lines on the sides of the nose, starting from the eyebrows and up to the wings, and then carefully brush with a brush.
It would also be good to put a bronzer and on the sides of the face, if you have a wide round face, or on the chin, if the face, on the contrary, is narrow.
Bronzers are both dry and liquid — in the form of a cream. I came to a specialized cosmetics store to accurately select a good bronzer that matches the color of my skin. What was my surprise when I found out that there are only 3 different brands of bronzator in the store – one of them is dry, the others are liquid. And this is for the rest of a huge variety of lipsticks, varnishes and mascaras. Probably, he does not enjoy great popularity among women, and maybe many people simply do not know anything about him.
I bought a dry bronzer VIVIENNESABOVOYAZH A SAN TROPE. It cost 180 rubles, quite inexpensive compared to the foundation powder and base, which I use.
It turns out that the bronzer does not have numbers of shades, it is universal for any color and skin type, which was amazing news for me.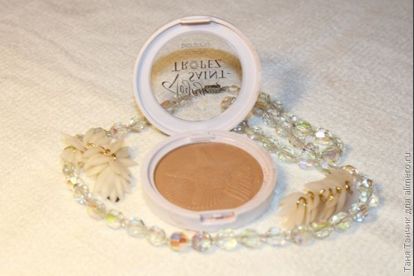 How to apply bronzer
I apply it with a special brush from a professional set along the nose and on the chin with long lines. Then I take a large powder brush and shade it well to make the transitions as inconspicuous as possible and to make it look natural on the face.
For one make-up, you need quite a bit of it, and therefore it will be enough for several years. The shelf life of the bronzer is 36 months. And also, if you use bronzer for make-up, then the photos are more beautiful and professional.
With it, you can even hide a slight curvature of the nose. For example, I have such a lump on one side of my nose, which came out after a strong blow, and then it remained forever. So, bronzer it perfectly visually hidden.
Do you use a bronzer?