Today I want to devote a review lip gloss, which serves me faithfully for almost a year. Hope my review will be helpful.
Making lipstick stylish!
The tube is made of high-quality durable plastic, which is not scratched. The inscriptions on the bottle are not erased.
The lid unscrews and twists well enough and you can not worry that the shine will flow or stain the makeup bag.
The applicator is quite unusual. It is made in the form of a spatula. Very thin. In the middle has a small groove, which serves as a kind of dispenser. That is, the lips fall just as much gloss as you need.
Made of plastic applicator or something like that, possibly from silicone.
Price: 300 rubles.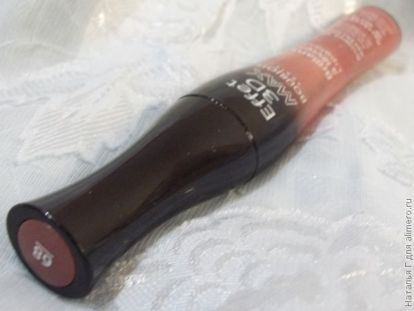 Texture
The gloss consistency is more fluid than other gloss. At the same time, I did not notice the spreading effect, it does not go beyond the lip contour. Although I use it with a lip liner.
On the lips gloss is almost not felt. Stickiness is not felt. Feels comfortable enough. And what I really liked – this shine softens and nourishes lips, smoothes cracks and peeling.
The smell is standard, cosmetic, but still somewhere far away fruity aroma is felt. But what good is the scent on the lips does not hold at all.
The taste of the glitter is also present. If the lips lick felt some sourness.
Persistence
To praise the durability of gloss can not be. After 1-1.5 hours of lip gloss, as there was not. Does not even withstand a cup of coffee or tea.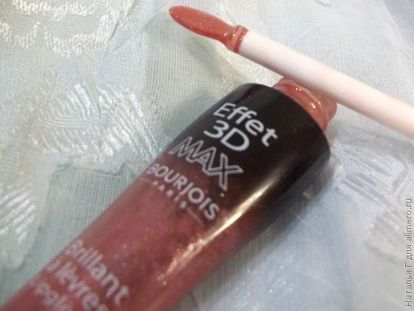 Personal opinion
If you do not take into account that shine has almost no durability, then otherwise it is good enough.
Sponges shine very well, but in the sun they just shine. Also, the sponge gives volume and hydration.
It lies flat and does not spread out over the lip contour.
The packaging is elegant and beautiful.
The volume is large, and the price is affordable.