Spring has come, which means it's time to switch to lip make-up with thick lipsticks for light shine. Today I will talk about one of the brightest representatives of my lip gloss collection – Bourjois Paris Effet 3D Gloss VolumeShine elixir in shade 06 Rouge democratic.
Manufacturer (France) promises shine, volume and color. The lips shine intensely, but at the same time they are moisturized and protected by antioxidants. New components (gel and waxes) provide a mirror effect and durability up to 8 hours. Every 13 seconds in the world for sale 1 shine Effet 3D.
The gloss case is stylish, thin, transparent with an elegant silvery lid, at the top of which is indicated the color and shade of gloss. Volume – 5.7 ml. It closes tightly, until it clicks, does not leak out in a horizontal position, does not stain the neck. Inside a comfortable elastic small tassel.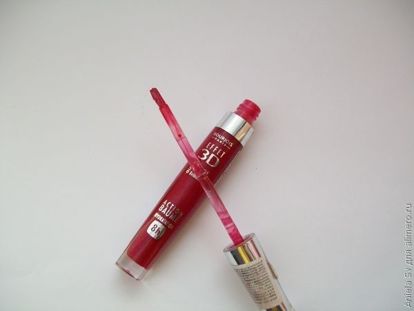 Appearance and application
The gloss is quite thick, dense, but when worn it is not felt on the lips. It is applied easily, it is convenient to draw the contour of the lips with a small brush. When applied in one layer a little bald, the second layer smoothes everything. But even one layer gives an already saturated color. Two layers give a very impressive mirror coating.
The color is saturated red with a slight inclusion of a silver micro-scale. Lips with this color become a little bigger. Glitter lasts a very long time, of course not 8 hours, as stated, but he can hold out for 5-6 hours. Such resistance, unfortunately, is accompanied by constant stickiness.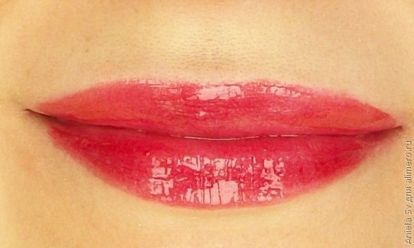 The aroma is very strong, but pleasant, it smells like candy.
The glitter does not spread beyond the contour, it does not emphasize the folds, but on the contrary, it smoothes. Lips do not dry, do not roll into a white strip. The gloss of the coat diminishes slightly when worn, but pigment remains.
Shine is removed quite easily, one of a wadded disc with liquid for removing makeup or micellar water is enough. After removal, the lips do not dry, on the contrary, as if moistened.
Great shine on the way out and not only. It goes well with dim eye makeup. I found only one minus – stickiness, the other properties declared by the manufacturer are fulfilled. Price – 390 rubles without discounts.