My acquaintance with Bonacure began with the fact that I went to a professional store and bought a hair mask called BC Oil Miracle. This choice helped me to make argan oil, which is part of this product. I have long wanted to buy a mask that would moisturize my hair well.
In general, I have a big problem with hair. They are curly, respectively, thin, split and lush. I always really did not like it. What I just did not do with them. Painted, straightened, made glazing and lamination. The effect is zero.
For a long time I used tongs for straightening, then I pulled the hair dryer gently. By the age of 20, I had learned more or less how to cope with them and had even loved wavy hair. But, naturally, from such treatment they became dry and lifeless.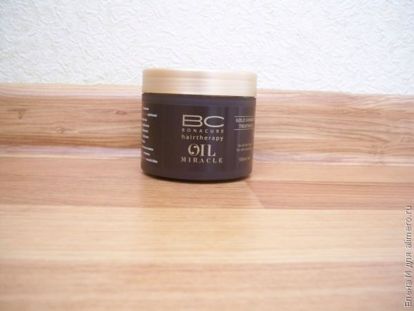 Bonacure OIL MIRACLE
In general, I bought this mask. In addition, the sellers also recommended a special comb with ions, which helps to pull and straighten hair, I also bought it. I came home and first of all I started experimenting with my hair. She washed her hair, held the mask for 5 minutes, washed off and dried with a hair dryer using a new comb.
The result was amazing. The hair was moist, shiny and absolutely straight. Finally, after many years of wandering in search of the perfect product for my hair, I found it! The mask I was very pleased. Now I can not live a day without her. Although they say that masks should be used 1-2 times a week, I do this almost every day.
Shampoo BC Repair Rescue 250ml
The next product of this brand, which I bought after the mask, was Bonacure Repair Rescue Shampoo shampoo – saving recovery. He, of course, did not cause so much emotion. Even a little disappointed. If you use one shampoo without a mask, the hair looks dry and dull, as from any other.
The only shampoo that I liked was the Alfa Puf brand. I can not find it anywhere else. Bought once in the store, and then they stopped working with this brand. I was very upset.
In general, I would put Bonacure shampoo C grade.
Spray conditioner BC Oil Miracle