I have never used rouge. For some reason, this tool seemed to me completely unnecessary in a cosmetic bag. But recently, when I saw a decent discount on products of the L`CF trademark, I decided to buy blush for the first time in my life. This decision was made out of curiosity rather than necessity.
Four different shades were represented on the shop window. Naturally, it was not easy to cope with the choice of the right one, so I had to call a consultant for help.
I wanted to get the blush of the most natural shade to avoid the effect of red cheeks. Hue number 1 seemed to me the most appropriate. Its color is beige and peach, without a pink or red shade.
Packing and composition
Packed blush in a two-story box of simple and concise design. It is small in size, has a square shape and is made of transparent plastic. The lid is foldable, it closes tightly, which allows you to wear blush in your purse, without fear that they may open suddenly.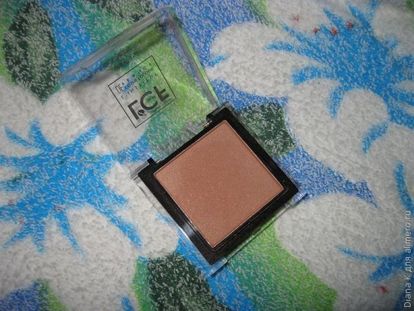 A pleasant surprise was the fact that right under the palette of blush there is a mirror and a brush. Frankly, the brush is not of good quality. Pile is pouring from it and it doesn't blend well on the skin.
The composition of the product includes substances such as mica, talc, magnesium myristate, methyl paraben and other non-natural components. The product is made in Dnepropetrovsk, Ukraine. The shelf life of rouge is very large – four years from the date of manufacture.
Advantages and disadvantages
For applying blush I used a natural large brush. As I wrote, the one that the manufacturer attaches to the rouge, inconvenient to use. Although in case you need to touch up makeup outside the home, it's very much nothing.
Blush is collected on the brush well and just as well shaded on the skin. They have a soft, pleasant texture. If you look closely, you can see a light shimmer. But in general, they look like matte.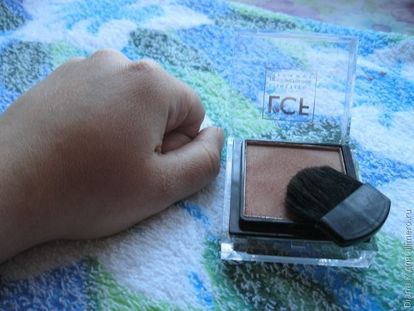 I liked the fact that they look very natural on the face. The main thing – do not overdo it with the amount. I, who had never used blush before, had to practice a little in order to achieve the desired result.
With all the positive qualities of this tool has a significant drawback. Already after three or four hours after application, they are not visible on the skin, which was to be expected from a product costing 62 rubles. (17 UAH). Therefore, L`CF blush is not suitable for those cases when you need to apply makeup for the whole day.
In general, I am ruddy happy. I consider my acquaintance with the products of the company L`CF successful. Have you used the cosmetics of this brand?