Quite often, I use resistant decorative tools that require special means to remove them. I have two such tools in my arsenal – Payot biphasic emulsion for removing eyes and lips and Eye makeup remover Dual effect Nivea.
Two-phase emulsion for removing makeup from the eyes and lips Payot
The manufacturer (France) promises delicate removal of makeup and waterproof cosmetics, does not damage the skin, tones, eliminates swelling and improves microcirculation. The product is in a transparent plastic bottle – which is very convenient and allows you to see the flow of the product. The oil part is transparent, and the lotion is blue.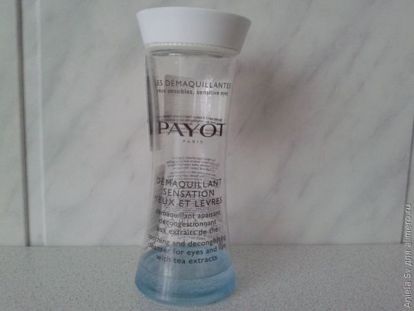 But a bottle with a twist off cap is not very convenient, since the cap is not secured and can be lost, and with a loose twisting, the emulsion can spill. Volume – 125 ml. In the composition – water, extract of chamomile, mint, marigold, mallow, linden, green and white tea, at the end there are parabens.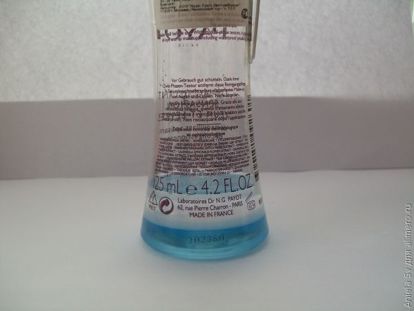 With waterproof carcasses and liner emulsion copes great, cleans completely without streaks. Oil film does not leave. Virtually no fragrance, the consumption is minimal – one cotton pad is enough for both eyes. Price – 1128 rubles without discount.
A little secret – all two-phase liquids will not leave an oil film if used correctly. When you put such a tool on a cotton pad, you must first remove the makeup with the oil side of the disk, that is, where you applied the liquid, and then wipe it with the back side – and the oil film is gone.
Eye Makeup Remover Double Effect Nivea
The manufacturer (Germany) promises effective removal of waterproof makeup without oil film. Cornflower extract protects eyelashes, suitable for sensitive skin and when wearing contact lenses. The tool is also in a transparent plastic bottle. Volume – 125 ml.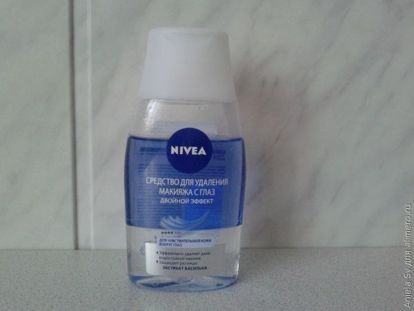 This product has a convenient hinged lid and dispenser, the lid snaps tightly and prevents fluid from leaking. Here the layers are tinted the opposite – the oil part is blue, the lotion is transparent. In the composition – water, cornflower extract, sunflower oil. Parabens are missing.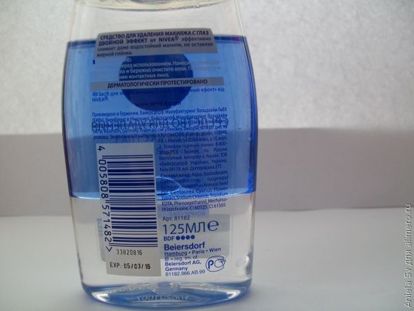 In my opinion, Nivea is inferior in its ability to purify. Perhaps this is due to the mark for sensitive eyes. Resistant mascara, and especially waterproof eyeliner removes bad, you have to additionally clean. Price – 143 rubles.
By its properties, I prefer Payot biphasic liquid – it copes with persistent products without any problems, Nivea is inferior, but it is designed for sensitive eyes. So the choice is yours)
What kind of biphasic liquids do you use?