Well-groomed hands are the card of every woman. It is beautiful when the handles are soft and smooth, and the nails are processed and with a good manicure. But how many varnishes I would not have tried, the perfect manicure was maintained for a maximum of two days. And considering that I am a young mommy, and I spend most of my time in household chores, it's not always possible to follow the perfect manicure. And there is practically no time for it.
Biogel is a guarantee of preserving a beautiful manicure for a long time.

The first time I heard about biogel was from my friend on the eve of my own wedding. Like any bride, I wanted everything to go perfectly: a beautiful dress, a nice hair-do, a gentle make-up and a slightly noticeable nail polish. I didn't want to build up my nails with ordinary acrylic, I had a sad experience at the time, after which I restored my nails for a long time using special tools. A friend said in surprise: Have you never heard of biogel? It is very convenient, in 2-3 weeks you forget about manicure.
After reading all the possible information about biogel on women's sites, I decided for myself that it was worth a try. And having tried, to be honest, I didn't regret it. The procedure, of course, is slightly different from the usual varnish and takes a little more time. I will try to explain the process in more detail.
After the manicure, the master begins to apply a base layer of biogel, which is dried in an ultraviolet lamp for about 5 minutes. While the nails are drying, there is time to choose the main color of the lacquer that will show off on your nails. The first time I stopped at a soft pink tone. The second and third layers are covered with colored biogel and fixed in a UV lamp for 10 minutes. Then apply the last coat of varnish.
After leaving the beauty salon, for a long time I couldn't quietly put my hands in my pocket or get something out of my bag, I was afraid that I would ruin my manicure. Yes, and doing household chores, all worried that my little feet will spoil, and will no longer look like that. But there was nothing to be afraid of: biogel firmly held onto the nails, and the manicure looked excellent after two weeks.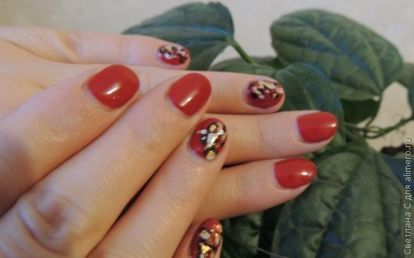 Now I constantly cover my nails with biogel, sometimes taking a break for a month so that the nails can rest. Summer will come soon and this will be especially relevant for girls: trips to the sea, a picnic or out of town, and marigolds will always be fine.
I recommend all girls to try to cover their nails with biogel, and young moms first. You will enjoy such a small thing as well-groomed marigolds and half an hour of dedication to its beauty in the salon.
Cost from 600 to 1300 rubles.
Have you ever covered your nails with biogel? How do you like the result?