Sometimes cleansing the face with gels and other cleaners is obviously not enough. I want this deep cleaning. Especially often this desire arises in the summer when the skin becomes clogged with dust, dirt and sweat.
As a rule, in such cases, I used scrubs. But my tender sensitive skin reacted to hard particles very badly – it blushed, began to peel off, in general, the irritation was on the face. Therefore, I wanted to find a tool that would also cleanse well and at the same time make it more delicate.
So when I saw the inscription above the bottle of Sea of ​​Spa: Delicate piling mask, that is, a delicate peeling mask, I thought that this was just what I needed!
In addition, I was bribed by wheat germ in the composition. I know a lot of good things about them, and the component is really worthwhile.
As it turned out later, you should not be carried on marketing marketing inscriptions on packages.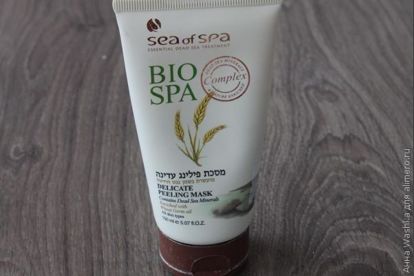 I bought a tube of 150 ml for 30 shekels, in terms of our money – only 270 rubles. I bought it in Israel, and in Russian online stores such a mask is cheaper than for 900 rubles and not found.
What the manufacturer promises
Peeling mask should remove excess sebum. Smooth the skin, smooth the tone of the face, make it soft and silky. Remove puffiness, improve blood microcirculation. And also contribute to the renewal of skin cells. And do it all gently and delicately. Designed for all skin types.
Appearance and composition
The peeling is packaged in a standard tube for the Bio Spa series with a hinged lid.
The texture of the mask is very airy and soft. I would even say silk. Very pleasant to the touch. And the color of the product – pearl.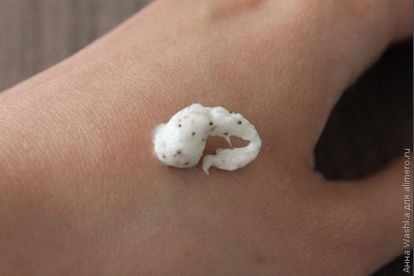 In the peeling itself contains small solid particles. As it turned out, it is crushed apricot bones. They also carry out the main cleaning function.
In addition to this, there are many useful natural components in the composition and just a bunch of different oils. For example:
– aloe juice
– sea buckthorn oil
– carrot oil
– sunflower oil
– wheat seed oil
– pomegranate oil
– cranberry oil
– tomato seed oil
– hyaluronic acid
– Dead Sea salt
So the composition is very, very attractive.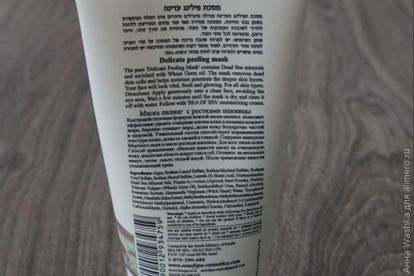 I put on a mask like it was written in the instructions: I distributed it on a clean face with massaging movements, then I waited a few minutes … It's written on the package to hold for 7 minutes, but I only withstood 3.
At first everything was fine. Then the skin began to unpleasantly stick. Then I felt a tingling sensation, and then my face began to burn so that I wanted to wash as soon as possible.
After I had washed away the remedy, my first desire was to dip my face into some greasy, old-fat cream. So it burned. The peeling has very dry my skin, although it is not dry at all, but a combination one.
I don't know which component influenced this way, but this mask-peeling is definitely contraindicated for girls with dry skin!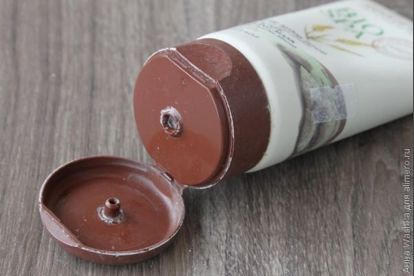 findings

This peeling mask was not as delicate as the manufacturer stated. At least she did not fit me at all. I would say that this is a rather aggressive scrub and, probably, will suit only owners of very oily skin.