I use tonal means quite rarely, but in my cosmetics bag there is always a foundation and powder. Starting from class 9, while still in school, I tried many similar creams, but in the last few years I opted for the beauty cream from Amway, Light 30, which costs only 605 rubles.
What is important to me
I have light skin with dilated pores, oily in the T-zone and dry on the cheeks. If you do not take care of it or use a non-quality foundation, then the pores on the nose and near it are clogged, and ugly black dots are formed. Therefore, I approached the choice of foundation very carefully.
On the site, the manufacturer says that this light base hides all the flaws of the skin thanks to a persistent formula, the face gets a great color, and the sunscreen protects the skin from the harmful effects of sunlight. In the palette of this cream 12 shades, so you can be sure that you can choose your own.
The texture of the cream is actually light, I apply it with a cosmetic sponge. Indeed, all the flaws of the skin are hidden, the face looks great. Most of all I like that the foundation is completely invisible on the face (of course, if you choose the right shade for yourself).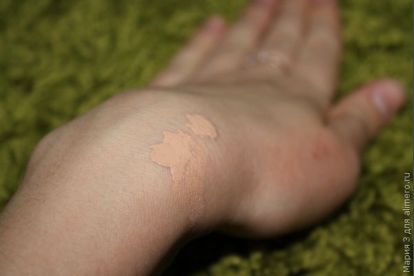 I use it if, for example, a pimple pops out. And also, if I do makeup on the way out, when I am going to a nightclub or restaurant.
In order to make the cream better, I first prepare the skin by cleansing with a special means for washing the Artistria, then use a cotton pad to wipe the skin with tonic and apply a moisturizer from the same care series.
Then I squeeze out a bit of tonal means on the sponge and apply it on the face along the massage lines with soft strokes, carefully distributing the agent over the entire face to the hairline and neck line. I wait for 10 seconds until the product dries, and apply the rest of the makeup.
-does not contain oils
-there is a sun protection filter
-I had no allergy on him
-resistant, lasts all day; to refresh your makeup, just enough to powder your face
-does not clog pores, for me this is the biggest plus
-enough for a long time
-no odor, I don't like makeup that smells at all
I did not notice the minuses for myself, so I continue to use this cream so far and recommend it to my girlfriends.
Have you tried the beautycycle foundation?