Today I will tell you how I take off permanent and waterproof makeup from the face and eyelids. This is a balm for removing permanent makeup Clinique Take The Day Off Cleansing Balm. I often use persistent products, especially for eye makeup, so I became interested in this product. Made in Japan.
From the manufacturer
The manufacturer promises an airy texture, due to which the balsam turns into oil and removes any dirt when applied. The manufacturer calls the tool an innovation that combines the effectiveness of makeup removal and respect for the skin.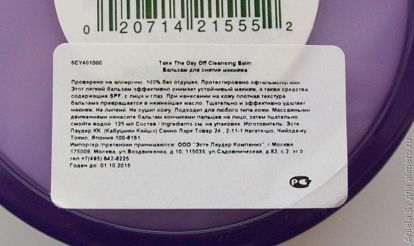 Packaging and appearance
The balsam is in a heavy plastic round jar with a screw cap. There is no protective film under the lid, which confuses me a little, because anyone in the store can open the product and get there with his fingers. In order to avoid such a misunderstanding, I ask the store to get a balm from the bins.
The volume of the product is 125 ml. Inside is a milky-white, opaque balm that looks like a frozen cream. There is no fragrance (the manufacturer says that the product is fragrance free and tested by ophthalmologists).
There are no spatulas for application, you will have to either look for something that is stale or use your fingers.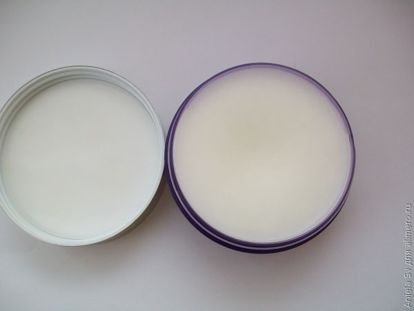 Application
This is an unusual product in terms of removing makeup. I got used to it for quite a while. To remove makeup, I take a small amount of balm from a used cream with a spatula and apply it on my face. Apply with dry hands! Carefully rubbed on the face and eyes. The main thing at this time is not to open your eyes, otherwise everything will be in an oil shroud.
The product is very delicate in texture, there is no discomfort from use, it is non-greasy, it slightly thaws when applied. After applying, I take a small amount of water and apply over the balm. At this time, the balm turns into the most delicate milk, which erases all the pollution.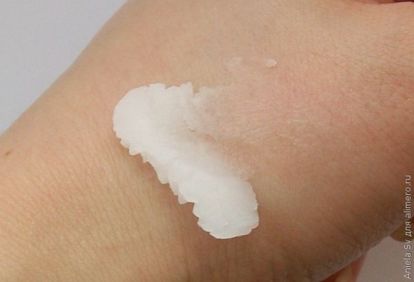 I massage and wash off completely with water. All – makeup removed. The skin is completely clean and incredibly tender. Sometimes, after the balm, I additionally use the foam for washing, but you can do without it.
Means removes even waterproof cosmetics, and the first time, nothing to wipe under the eyes do not have to. The eyes do not pinch, it is very economical, one jar lasts for 4-5 months with daily use. This is just a find for me, the balm has definitely become my favorite.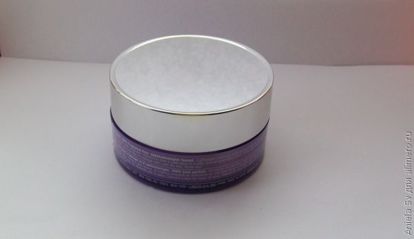 Composition
The composition is short and effective: palm and coconut oil derivatives, safflower oil, emulsifiers, water, vitamin E.
Balm has definitely become my must-have among all such products. I buy it already the third jar and I will buy again and again. I advise everyone to buy this tool, then you will not return to the usual washing. Price – 999 rubles without discount.