Coco-Glucoside – mild detergent
I do not always have the opportunity to buy luxury products, so I found the perfect tool for myself! This is Johnson's Baby Baby Shampoo. No additional properties. With a neutral smell. The one who carefully cleans and does not pinch his eyes.
And all because the main surfactant here is Coco-Glucoside. This is a very mild detergent produced by the fermentation of sugar, corn and coconut. In addition, it is without soap and parabens. It sounds great and inspires confidence. Is not it?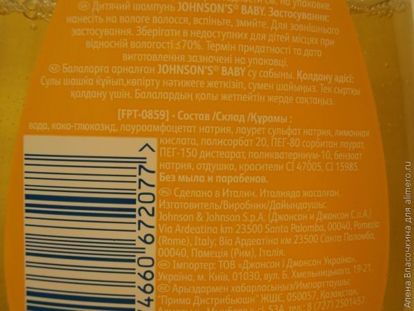 Not all children's shampoos can boast of such a composition. Johnson's Baby has been holding the brand for years. With the same shampoo, I wash off cosmetics perfectly. Even waterproof mascara. At this point, it is very opportune that shampoo does not sting the eyes.

Why do I insist on applying it?
Because for the usual cleansing of the skin does not need antiseptics and other antibacterial agents, to which we are taught in special gels. When I have problems with the skin, then I will begin to use remedies. In the meantime, I am quite satisfied with the effect of this wonderful shampoo.
Previously, after washing the skin unpleasantly unpleasant. And after prolonged use of such gels, my combination skin began to peel off. And the tonic did not make things much easier. I had to revise all my cleansers.
I started experimenting. Washed oatmeal and other natural products. But this is not very convenient, as it seemed to me. In the end, I came to understand that I need the most simple in composition gel. Without additives.
So I began to wash Johnson's Baby shampoo. After such a gentle cleansing of the skin, I have a feeling of purity and no tightness.

How do i clean my face?
Pre my hands. And with clean hands I wash my face with water. Then pour a small amount of shampoo into the palm. It depends on how much makeup on the face, and whether it is at all? In the summer, I don't scoff at my skin and the only decoration is tan.
Shampoo foaming, connecting it with water. And then I wash my face with circular motions. Wash off with cool water. I finish the procedure with a tonic.
What kind of gels do you wash? And as you my idea with shampoo? Beauticians, please do not throw tomatoes at me!