I haven't found my perfect mascara yet. I decided to try again to find it on the pages of the Avon catalog.
I have already written about blue. This time I chose black, Avon Color Trend.
By and large, the ink is framed standard: name, volume. To be honest, when you hold the bottle in your hands, it becomes immediately clear that it is inexpensive. Blue design will make it cheaper.
On the other hand, it looks really with its own money. I don't remember a penny now, but its price is around a hundred rubles.
Immediately did not like the fact that the tube does not close tightly. Between the lower and upper part freely crawls nail.
The badge on the sticker indicates the usage time: 6 months. I have been using it for about 10 months.
Brush and application
The brush is the most common, no frills. Plastic, medium-length villi, quite thick. To be honest, I do not know what the matter is, but the mascara is never evenly distributed over it (((
Because of this, it is hard to paint over normal eyelashes. It turns out somewhere empty, somewhere thick. In short, without a needle can not cope. And not only because of the uneven application. Another because the eyelashes stick together among themselves.
The consistency surprised me a little too. When she bought it and started using it, it was too liquid. After a month and a half, she dried out a little, it became better.
I always waited from the mascara to increase the length and volume of the eyelashes. In the case of Avon Color Trend, I did not notice anything at all.
I want to say: well, at least the color changes and it is really black. If not for this, its use would be completely meaningless.
In general, the way it is in the case of their dark eyelashes. Those. brunettes, she just does not help. But my eyelashes are bright, so for me there is a plus in changing colors.
This is not all. At one of my husband's job interviews, I volunteered to go along with him. Well at least I did not need to go with him to the head of the personnel department. It would still be a spectacle. On the way, rain caught us and the mascara flowed (((It's not at all steady against water, it upset me the most.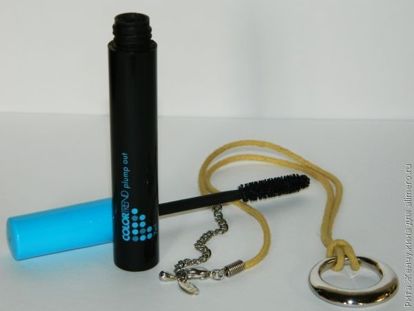 It is washed off well, even by rain))) Seriously, removing it is not a problem both with makeup remover and just with water.
Honestly, I can not advise anyone to buy it. Although everyone has different ideas about beauty, convenience and so on, it is unlikely you will like it.
Now I continue to use it. Secretly from all I carry a small needle case for work with me in my purse. With the help of a needle, I correct makeup when no one sees. You understand that this is not an option.
As soon as I find something suitable for myself at the price and quality, I will immediately buy it. But now I don't even want to look at cheap mascara. It is better to overpay the same 200-300 rubles, but get the thing to a higher level of quality.