You eat calcium and vitamins, strengthen your nails with trays and lemon, but they, ungrateful, do not grow? Yes, in addition, bend and exfoliate? Try heavy artillery hardener for nails.
The effect of the hardener is felt from the first application. But this tool is an extreme case, it should not be abused.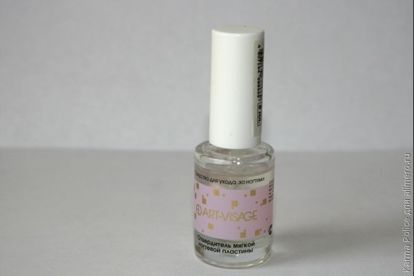 Composition and recommendations for use
The company Art-Visage promises that when using a hardener for soft nails, you will not recognize your nails. They will become elastic and durable. And all thanks to the formula in which vitamins A and E and aloe extract.
These vitamins are known for their usefulness to the skin, hair and nails, they nourish, promote regeneration and protect. Aloe extract is the most popular moisturizer. But I don't tire of repeating: how vitamins and other useful things survive in a bottle with a solvent – a mystery to me.
Then the manufacturer mentions that there is formaldehyde in the product. So it was worth starting with that! Quite a toxic substance, precisely because of its effects, the nails become firmer and thicker.
About the use of formaldehyde in the means for nails on the Internet there are such disputes that you do not know who to believe. Someone shows gorgeous nails after applying such preparations, and someone has nails after them completely peel off from the nail bed!
My personal conclusion and my personal experience – to apply such healing varnishes only according to the instructions! It is written on the label – use once a week and no more. Then there will be no problems and threats to beauty and health.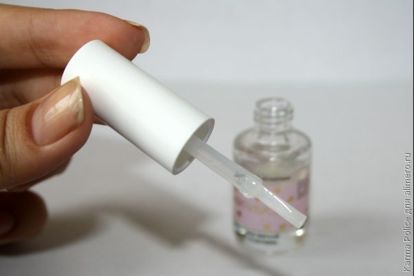 My experience
My nails are naturally thin and brittle, and the last couple of years have also mercilessly exfoliated, and not a free edge, but almost from the middle of the nail bed. Grow very slowly.
This tool was advised to me by a consultant in the store, I myself would not have noticed the bottle. The consistency of the hardener is liquid, it is absolutely transparent. Apply even thin layer, dries quickly. Brush rare and flat, quite comfortable. The smell is pungent.
The effect is noticeable from the first application, the nails, however, become harder. I use it as a base for colored varnish. If applied as an independent means, then my hardener slashes the film with nails the next day.
And he mercilessly dries the cuticle, so before applying it is better to lubricate it with a fat cream.
Of course, my nails have no iron hardness, but they have become much better.
It should hardener 90-110 rubles, the volume of the bottle is 8 ml.