My first acquaintance with Himalaya Herbals products took place through a face tonic. The impressions were positive, so I decided to try something else from this series of cosmetics.
Himalaya Herbals products are natural, with really healing ingredients. On the packaging, the manufacturer immediately emphasizes that the mask contains turmeric and him.
The mask, according to the manufacturer, cleanses the skin, prevents the appearance of acne, regulates fat secretion, cleanses the pores and improves the structure of the skin.
Neem, which is part of this mask – is known in India as a village pharmacy, a divine tree and a panacea for all diseases. In combination with turmeric, it destroys the bacteria that cause acne.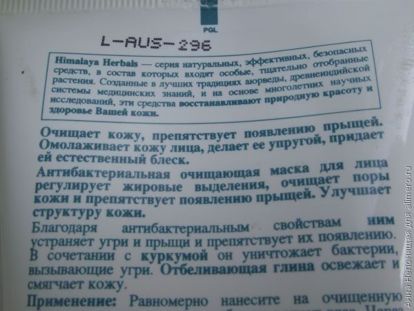 The mask is recommended to apply 1-2 times a week. Apply evenly over the entire face, excluding the area around the eyes. Rinse 10-15 minutes after application.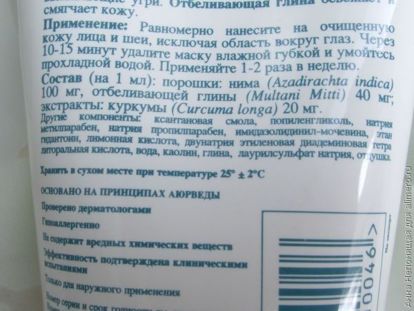 The mask itself is the color of the swamp. The sight, of course, not for the faint of heart. My sincere advice to you: if you put on a mask, sit quietly and do not frighten anyone, especially your husband.
The smell is absolutely disgusting, but this is only the first few minutes. Then you get used to it and do not pay attention to it. Plus, the mask mercilessly sting the first 3-4 minutes. I suspect that these antibacterial properties eradicate acne from my face.
In spite of all the drawbacks that I described above, I really liked the mask. It has the effect of clay on the face, perfectly dries the inflammation, if any. The skin after application is smooth, silky, looks rested.
Great mask if you really need it. The cost is quite acceptable – about 50 UAH. or 200 rubles. for 150 ml. I suspect that such a large amount is enough for at least six months. The mask copes with all the stated responsibilities, but you can accept the not very pleasant smell and color.
And what antibacterial masks have you tried?