Summer is in full swing and we enjoy the hot sun and spend a lot of time outside. Formerly, I used the same cream for protection from sunlight: for the body and for the face. But this year, she decided that it was necessary to purchase a separate tool for the face. My choice fell on anti-aging sunscreen Niveasun.


Anti wrinkle


First of all, I liked that this tool not only protects from the sun, but also prevents the appearance of wrinkles. Still, at my age of 30 you need to remember that the sun dries the skin. In the sun, we screw up more, and increased swimming in salty sea water also contributes to increased dryness of the skin.
And the producers of Nivea cream promise that after using it, wrinkles will not only not appear, but the skin will become supple and smooth.
Protection


I can say with confidence that this tool reliably protects from the sun. I chose the cSPF 30 option (this is a high degree). But there is a cream on sale and with a 20 level of protection. After pregnancy, pigment spots continued to appear under my eyes every summer, but this year the skin is fresh and clean! By the way, the tan to the face still sticks, but it is even, and I am not afraid to get burnt and do not worry about the unfortunate spots.
The manufacturer promises protection not only from UVA rays, but also from UVB rays, overdose of which is also dangerous for the skin.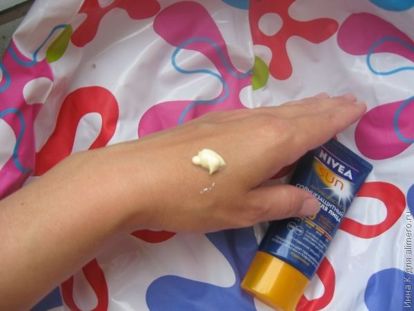 The cream is quite pleasant, not greasy. Yellowish color. I like the smell, not intrusive. The cream is economically consumed, although the manufacturer advises to apply it abundantly, I need only a drop. I renew a layer of cream every 2-3 hours, sometimes even less. By the way, the product is really waterproof. I can say this with full confidence, because I usually climb into the sea with my head.
Minuses


It must be remembered that all sunscreens are applied to the skin for protection, and not for moisturizing or nourishing. Therefore, after applying Niveasun, a film remains on the face. At lunch and in the evening I wash off the product and apply my usual cream.
Volume and cost


The volume of the cream is 50 ml, and it cost 270r. I think the price is acceptable, the main thing is that I really like the product!
What kind of sunscreen do you use?