Previously, in almost every home on the window sill stood unpretentious aloe flower. And for good reason, because everyone knows about its beneficial properties. By the way, in cosmetology this plant is used very often. Visiting granny, I saw aloe and decided to grow it on my windowsill to be used for cosmetic purposes.

Aloe juice
Experimentally, scientists have proven that it is biostimulated aloe juice that is effective. It does not matter if you do not have a plant, you can buy juice at the pharmacy. If you have aloe on the windowsill, you can make the juice yourself.
For juice, it is recommended not to water the plant for a week. Then you need to cut the lower fleshy leaves. Rinse well with water and refrigerate, preferably in the lower section, where the temperature is not too low.
About 10-12 days enzymatic processes will occur, resulting in the formation of biological stimulants.
After the leaves are left in the fridge, the juice can be squeezed out just by hand. After receiving the juice, it is advisable to use it immediately.
If it is necessary to preserve its properties for a longer time, then it is necessary to mix the juice with vodka or alcohol. To this end, 100 ml of vodka is added to 300 ml of aloe juice. I try to make some juice to make several masks. Yes, and noticed that a lot of it can not be done immediately.

Masks for dry skin
I have dry face skin, so with aloe juice I make moisturizing masks. The simplest mask is prepared like this: aloe juice is mixed with a spoon of sour cream, whipped yolk is added. I put the mask on my face for about 30 minutes.
If there is honey, then mix it with aloe juice, add oatmeal and a little mineral water. I put on face for 20 minutes.
Such simple masks moisturize dry face skin well, which is especially important for me.

Anti-aging masks
It is too early for me to make anti-wrinkle masks, so if you have a lot of aloe juice, then I make a mask specifically for my mother.
There is a very simple but effective mask. Aloe juice and cream are mixed in equal proportions (usually in my fridge there is no fat cream). The mask is applied for 30 minutes.
By the way, to make a rejuvenating mask, you can simply chop the aloe leaves in a blender. It turns out the gruel, which is applied on the face for 30-40 minutes.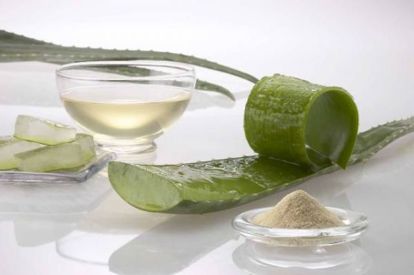 Hair masks
From aloe juice you can prepare and strengthen hair masks. For nutrition, I prepare a very simple mask: aloe juice is mixed with the yolk and applied to the hair. It is not difficult to do it, you can repeat it twice a week.
If strengthening and growth of hair is necessary, then it is worth preparing a more complex mask. If you do it once a week for 2-3 months, then you will notice that the hair began to grow faster and become stronger. Checked by my sister.
To prepare the mask you need: aloe juice, a tablespoon of chamomile, plantain, nettle, some rye bread, yolk, jojoba oil, burdock oil, lemon juice. All you need can be purchased at the pharmacy.
First, the herbs are mixed with bread, poured boiling water and infused for 30 minutes. Then the remaining components are added. Mask to rub into the scalp. After an hour, wash everything well with water.
As you can see, aloe is a very useful plant, in vain some people consider it a nondescript indoor flower.