I always have everything in my purse. And cosmetics too. But the most amazing and unsurpassed helper in creating a wonderful age is lipstick. It is about her today and talk.
A bit of history …

Do not you wonder how old the lipstick and when it appeared? Personally, I'm interested. And looking into the World Wide Web, I was surprised: a prototype of modern lipstick was used about 5 thousand years ago. Women of Mesopotamia, too, wanted to look good! Truth be told, it was a kind of lip paint, which was made from red pigment, animal fat and beeswax.
In the 14th century, the Catholic Church forbade cosmetics, at that time the Virgin Mary was the standard of femininity and beauty, without cosmetics, chaste. But at the end of the 19th century, lipstick became popular again. French perfumers presented lipstick to society. The real lipstick, as we know it, appeared in 1920, thanks to Elena Rubinstein. Thanks her!
Lipstick Ingredients

Today's choice is really impressive: matte, glossy, resistant, satin, increasing volume, hygienic, nutritious. But here it is necessary to approach the choice of this subject of decorative cosmetics very carefully. As a rule, the composition of the lipstick includes 4 main ingredients: base, coloring mixture, additives and fragrances. So, first things first.
For lipstick, the base is natural vegetable waxes, oils and fats. The wax allows the lipstick to perfectly lie on the lips. It also provides the strength and practicality of lipstick. Castor oil, petroleum jelly, which perfectly soften and nourish the lips, use oil. Also oil provides shine of color.
The composition of the lipstick also includes substances such as polymers, silicate derivatives. They extend the life of the lipstick. Thanks to them, our girlfriend can serve us a good service (about 3 years).

Dyes and additives

The most common dye is carmine. Thanks to him, shades of lipsticks are very diverse. As for supplements, there are vitamins A, E, C. They have anti-inflammatory and sunscreen properties, keep the lips skin youthful.
Fragrance in lipstick in order to hide the smell of raw materials. And the smell in all lipsticks is completely different. And someone chooses his lipstick by this criterion.
Buying lipstick …

We select lipstick for your mood, hair color, nail polish, accessories. But as the practice and experience of my girlfriends say, lipstick can be a lot, but the beloved one. And at all it is different. Someone has a lip gloss, someone has a persistent doroguschy branded lipstick, and someone – a simple hygienic.
We are all different: with their own characters, taste and color preferences. And we choose lipstick in our own way. But personally, I outlined several criteria that I use when choosing a female weapon of temptation:
– women's lipstick should be soft and easy to apply on the lips,
– it should not spread and roll, tighten lips, leave stains after washing,
– high-quality lipstick always smells delicious (by smell, by the way, you can determine its shelf life),
– poor quality lipstick can be seen in its condition and smell (not plasticity, brittleness and bad smell of old fat),
– lip gloss check on your palm or sheet of paper. You need to look not only at its shade, but also at how lipstick lays down.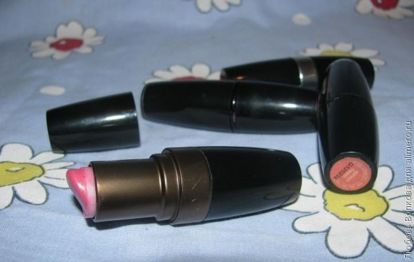 For complete confidence that this is she, I paint my lips. After all, the shade of lipstick on the lips can look different. Who has bright or even pale lips, lipstick looks paler, and bright lips – the shade of lipstick will look brighter.
And another tip: in order for a new female weapon of temptation to last as long as possible, it should be stored in the refrigerator, especially in summer. Such a little trick prolongs lipstick life. And even better to use a brush. So the lips are painted better (according to the numerous advice of stylists and makeup artists) and its shelf life will last.
And what do you know about lipstick? Did you learn something new for yourself from this topic?