I used to go to a beauty salon to get my nails in order. I like acrylic technology for a long time, and I kept thinking how to learn it myself. At first I thought it was costly and very time consuming, but it turned out that I was wrong.
Acrylic extensions



I have always treated my nails with increased attention, knowing that they need constant care. Having decided that the beauty salon became unprofitable for me, I seriously began to master the acrylic technique. As it turned out, this issue does not require professional training, and does not need large time costs. All I needed was patience and the right tools.
Tool kit and components



I purchased acrylic powder, primer (primer to adhere acrylic and nail plate), brushes, files, tips, monomer (this is a liquid that mixes with acrylic powder), grinders and polishers, solvent for acrylic, bond (this liquid for cleaning and drying nails), a tube of antifungal glue.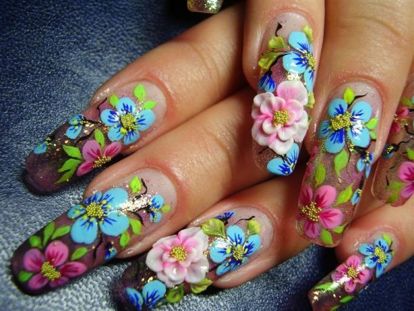 Acrylic coating



1. First of all, I process the nail plate with the help of ordinary hydrogen peroxide. I wait a little while the nails are dry, gently pushing the cuticle and removing the skin. Then grind the nail. Thus, excess fat and shine is removed from the nail.
2. I take tips and pick the right one for each nail.
3. Then I saw off the tips with one hand, which, when building, is adjacent to the nail.
4. I stick artificial nails with antifungal glue, smearing it from the inside. It is impossible to hurry here, because correcting a crookedly glued nail is very difficult.
5. Determine the length of the nail. I like the specific length and shape that I constantly adhere to. After the glue is completely dry, I cut my nails, giving them the shape that I like.
6. I process a surface tips. This stage is needed to smooth the border between your nail and artificial. For this simple procedure, use a nail file or grinder. This preparatory work is completed. After this work begins with acrylic.
7. I take a brush and dipping it in monomer, and then in acrylic. I put this ball on the nail, distributing over the entire length. This should be done quickly so that the acrylic is not frozen. This procedure is done in several layers that increase strength.
8. It remains to polish the nails with a nail file and polish, apply a pattern or varnish.