I do not like to spend a lot of money on cosmetics, so luxury products appear in my cosmetic bag extremely rarely. I do not buy branded items spontaneously, only if they are very impressed with me. That's what happened with the brilliance of Chanel called Lèvres Scintillantes. In general, I don't have lip gloss, I prefer lipstick, because I don't like hair sticking to lips. I like the matte texture. But once, on a sunny day, while walking with a friend, I could not take my eyes off her lips, they just shone and sparkled! Of course, I immediately asked what gives such an effect. In response, she received a sea of ​​rave reviews on shine from Chanel.
Then I immediately understood, it is necessary in my collection. However, the purchase of fork out only a few months, because pleasure for me is not cheap – about a thousand rubles for 8.5 grams of brilliance.
Description and my impressions

The manufacturer writes that this gloss Lèvres Scintillantes makes the lips super shiny and shining, it has a gel texture that is easy to apply and lies comfortably on the lips. Made in France, shelf life after opening 18 months.
It turned out that this brilliance is one of the company's bestsellers, he has a lot of fans. Lèvres Scintillantes has rather laconic packaging: a transparent case, a black cap with a logo and a gold stripe.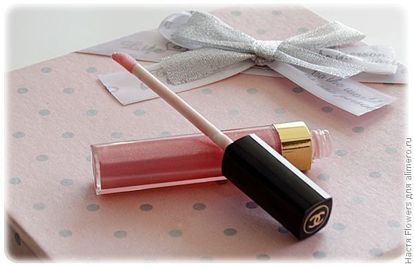 The gloss of the sponge is ordinary, with a slightly beveled end. A small amount of the product is collected on it, to cover the lips, it will be necessary to dip the applicator into the gloss two or three times.
The texture of the tool is very interesting, gel, rather dense, on the lips gives a feeling of comfort and hydration. His hair still sticks from the wind, but not like with others. Lèvres Scintillantes on the lips sits somehow different, I can not explain in words. It is not light and sticky, but more viscous, so to speak.
Sparkling and brilliant

In the glitter you can see a lot of holographic particles of various shades. They shine and shimmer, as if tiny crumbs of diamonds are scattered on their lips. None of the photos will not give this effect, so if you like shining brilliance, be sure to test it in the store.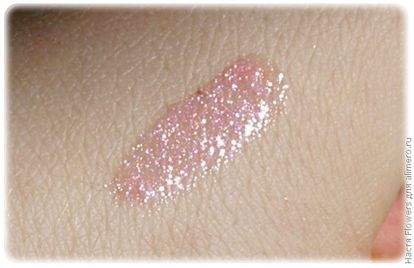 I chose the most transparent shade that was available, at number 131 MICA. It is cold pink, but the shade itself is barely noticeable on the lips, mostly just shining particles.
In general, this is my only lip gloss, and I just adore it. I have it for about six months and does not think to end. When I want the effect of tender but radiant lips, I always use Lèvres Scintillantes. I do not regret a single ruble spent on it.
Have you tried luxury lip gloss? Which ones did you like?