Cosmetics I love. No, not even just love, I adore her! I have so many different things, devices. And I use it all regularly.
Decorative cosmetics can work wonders. It covers our shortcomings, emphasizes the dignity.
A concealer in my cosmetic bag is an indispensable thing! He so skillfully masks all my pimples, specks, redness, dark circles under the eyes and even fine wrinkles.
By the way, I have several of them, in different colors. Each color has its own purpose. For example, green helps to mask redness and pimples. Yellow color – removes dark circles under the eyes. Orange conceiler helps to fight with small wreaths and asterisks on the face.
This is another my favorite assistant. I call it a cream with the effect of photoshop. He just amazingly corrects. And also BB-cream replaces the moisturizing, matting and tonal cream for me. That's how multifunctional it is!
Ink for me is a necessary element of decorative cosmetics. Thanks to the mascara, my naturally short eyelashes gain amazing length and gorgeous volume!
I like to use mascara brown and dark blue. Combining them with different shades and lipsticks, you can create an unusual image!
I have several pencils – for lips, for eyes, for eyebrows. I mainly use black for eyebrows. For lips, pencils, I choose a natural color or tone lipstick.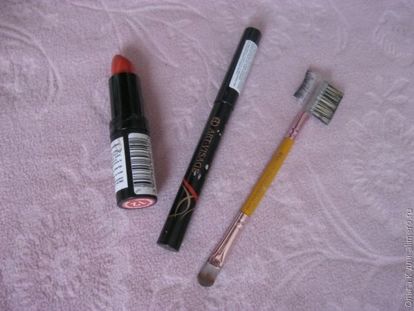 5. Eyebrow Shadow.
I heard about eyebrow shades long ago, but somehow I did not dare to buy. And recently acquired. And you know, it's just a super thing!
Shadows help me to make eyebrows more expressive, and the contour is clear. With such an element of makeup, my makeup takes on a complete look.
My natural pallor of the face would have been the envy of the past century. And in our time, she only emphasizes the inability to apply makeup and gives me some kind of painful look.
But with blush I refresh my face. And I also emphasize the cheekbones. The face is so noble!


7. Lip gloss.
Here I rarely use lipstick. And I like lip gloss more. I have a lot of them. There is a transparent, and with sparkles, and giving volume, and with a matte effect. I use lip gloss daily. Most of the time I use a transparent gloss and lip gloss of a pale pink hue.
What cosmetics do you use daily?