So conceived by nature, that a woman is ready to spend a lot of time and money to create her unique, alluring image with the help of cosmetics. Thinking about make-up or a so-called face outfit, you can offer a lot of options.
But is a huge arsenal of decorative cosmetics really necessary? It is interesting for me to watch other girls, how they manage to create this or that image. Using these observations, I came to the conclusion that enough 5 elements of decorative cosmetics and an unsurpassed result is guaranteed.
Makeup base
There are different types of bases, but they all prepare the skin for applying makeup and prolong its durability. Since I am a happy owner of oily, sensitive skin, I prefer to use a matting base. It is she who gives me confidence in the integrity of my makeup throughout the workday.
In the evening, I allow myself to take advantage of a corrective light reflecting base, but with it you need to be careful. Owners of oily skin (such as me) can apply such bases only on certain parts of the face. I like to use on the cheekbones, the tip of the nose and a little on the chin. This is a great refreshing skin color!
Immaculate makeup without a good foundation is simply impossible. Of course, the cream should be chosen depending on the type of your skin. A great variety of modern tonal creams will allow you to choose the most beneficial cream for your skin.
There are, of course, such ladies who have perfect skin, without reddening and closely spaced vessels. Alas, it is not about me. For myself, I found a solution in the ultra-elastic texture of the fluid, without fragrances and preservatives, with SPF 25. The plastic, melting texture of the fluid gives me a feeling of comfort for the whole day, the sun protection factor protects the skin from premature aging.
Blush
I can go without mascara, lipstick, gloss, shadows, but never blush. In my opinion, the underlined contour of the face – makes a woman perfect. I am madly in love with experimenting with rouge, depending on my mood and occasion. The effect depends on the color of the rouge and the method of application.
My daytime favorites are peach and a bit of cold pink blush. In the evening, for my own pleasure, I conjure with rich colors and sparkles. I admit honestly, experimenting with rouge for a very long time and bravely. Therefore, I can confidently say that warm wine shades make the face older. And the choice is yours …
Ink
Mascara is a resident of cosmetics almost every woman. It seems to me that when choosing a mascara, first of all you need to pay attention to the color, brush and composition. What one really wants to achieve is glossy shine and extra thickness!
Since nature has endowed me with sufficiently long and thick eyelashes, then I chose my classic black mascara to add volume. This mascara has a brush with a uniform bristle, contains in its composition wax, which envelops the eyelashes from all sides. It makes sense to choose a mascara with vitamins in the composition, which will allow both to paint and treat your eyelashes at the same time.
Lipstick or gloss
Oh, those lipsticks! I adore various colors and shades for lips, I use everything that is (a large enough fondant arsenal) depending on the time of day, mood and clothes. Delight is caused by a light texture lipstick that hides the peeling and moisturizes the lips.
When focusing on the eyes – tint spontaneously tint. And with accuracy to the contrary if eye makeup is muffled. For girls with a narrow and thin face (like mine) I can recommend to make up a good lips, then the face seems to be more feminine. And always follow one rule: Dark, saturated lipstick – only for the evening!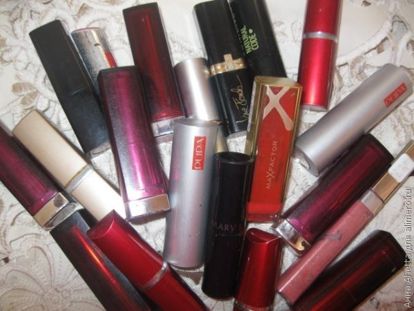 Here is my secret to creating a unique image!
Experimentally, I found such assistants for myself. And I would love to know your opinion on this matter. Do all of the above tools use or maybe this is not enough and you add something?